Happy New Year!
​Dear IWCO Students,
During 2016, IWCO continued our mission to preserve and develop the traditional techniques of Wing Chun and promulgate this art internationally. Our arms have been extended to the Central and South America. Schools and study groups were opened in Argentina, Colombia and Mexico. Apart from this, a school was opened in a former Soviet Union country, Uzbekistan as well. Potential regions to open school are Brazil, USA, Spain and Nepal. Among all the schools, the IWCO – Iran has made significant strides. It has schools located in 9 cities with circa 400 students across Iran at the moment.
2016 was the fourth year IWCO held the world Wing Chun championship in St Petersburg, Russia. This year we faced some unexpected problems, but with the calmness and risk management capability of our team, the event was completed with a lot of success eventually.
IWCO's athletes from Hong Kong, Italy and Russia attained excellent results in the 4th World Wing Chun Competition 2016 held by the World Wing Chun Union in Hong Kong October this year. 27 medals (12 gold, 8 silver and 7 bronze) were awarded to us.
We continued to hold national competitions, seminars, workshops, grading examinations and summer/winter camps during the year in different regions and schools as usual.
Lastly, I would like to express my sincere gratitude to all of you. Our success would not have been possible without your support. I want to wish all students, grand students and instructors of our IWCO family a very happy New Year/festivities. It has been my pleasure and honour teaching and training with you. I am looking forward to continuing our journey together in 2017.
Yours sincerely,
Donald Mak
Chairman
Saratov ( Russia) Seminar
On 11 - 12 July 2015 Alexey Isakov, Instructor of International Wing Chun Organization - IWCO, conducted seminar for students of IWCO - Saratov school dedicated to exams for levels 1, 2, 3 of the International Wing Chun Organization program and held the masterclass for level 4 of Cham Kiu. Congratulations to the students who successfully passed the exams!
Headquarters & Hong Kong School location
Address : Flat 812, 8th Floor, Yuen Fat Industrial Building, 25 Wang Chiu Road, Kowloon Bay, Hong Kong (within 5 minutes walking distance from Exit A of Kowloon Bay MTR Station).
Directions of walking from from MTR: Turn right at Exit A and pass through the shopping mall (Telford Plaza), then via the flyover to Telford House. After riding down the escalator at Telford House, walk straight.
http://hkwingchun.com
IWCO Headquarters & HK School – Relocation Opening Ceremony
Owing to the health issue of my beloved SiFu, GM Chow Tze Chuen, he was not able to host the opening ceremony. It is my great honor to invite my Si-hing, Leung Ping Sang to be our host guest. In addition, it is very honorable to have GM Ip Chun and the producer of Ip Man movies series, Checkley Sin to be the host guest and give their speeches as well. We sincerely thanks for all the guests to make the events stunning. In addition, my deepest gratitude has to be given to my students, especially my first disciple, Sarfield Ng for their efforts and time to make the opening ceremony successful.
IWCO seminars for January – April, 2015
IWCO planning the following seminars for January – April, 2015:
(More seminars will be added soon)
-29 Jan. - Nizhniy Novgorod, Russia
- 31 Jan. - 1 Feb. : Cluj Napoca, Romania
- 31 Jan. - 1 Feb.: Novosibirsk, Russia
- 7 - 8 February: Terni, Italy
- 7 - 8 February: Bryansk, Russia
- - 7 - 8 February: Ukhta, Komi Republic, Russia
- 14-15 February: All-Russian seminar ( Wing Chun form and Chi Sao )
- 21-22 February: Astana, Kazakhstan
- 21-22 February: Ekaterinburg, Russia
- 28 - 29 March: Vienna, Austria
-17 - 18 April: Esfahan, Iran
- 26-28 April: World Wing Chun Cup (St.Petersburg)
SiFu Donald Mak New Year Message to IWCO Students
Dear IWCO Students,
Looking back at 2014, it was a steady year for IWCO's development despite the global political and economical unrest. Each of our schools has its own internal growth. International and national competitions, seminars and grading examinations were continuously held in different regions and schools to promote Wing Chun and increase the standard of our students. The biggest competition is of course the 2nd European Wing Chun Cup in May 2014 in St Petersburg, Russia. We shall continue to organize the 3rd European Wing Chun Cup in 2015.
Our school participated the 2nd Ip Man Cup World Wing Chun Competition held in Foshan in November and got excellent results. 13 medals (6 gold, 3 silver and 4 bronze) had been won and our team is the top 3 in terms of number of gold medals won.
2014 is the year full of challenges. Although we may financially loss something, we still have our good health and beloved family. We should be thankful to what we presently have. Challenges will never stop. More emphasis should be placed on making use of Wing Chun to help our mental development. Fighting ability is the by-product and minimum that we can get from Wing Chun. It can give you much more than a fighting system and thus learning its spiritual aspect is our way to go in future. Next year is the Year of Goat. It represents benevolence and love. We should keep our kind heart to perfect ourselves.
Lastly, I would like to thank you for your earnest support to the school and wish you a happy and very prosperous year 2015, good health, good Wing Chun and all your wishes come true.
Yours sincerely,
Donald Mak
Chairman
New IWCO school in China.
We are pleased to announce that IWCO has opened its first official school in China operated by our Head Principal, Grandmaster Donald Mak in October 2014. It is located in Xuzhou of Jiangsu Province.
IWCO master class in Haifa, Israel
IWCO master class was held in Haifa, Israel September 07, 2013
The master class was conducted by IWCO Instructor Eugene Paramonov.
IWCO-Israel: http://www.iwco.info/israel
For seminar and Wing Chun Master Classes: E. Mail:
info@iwco.info
IWCO summer camp "Baltica 2013"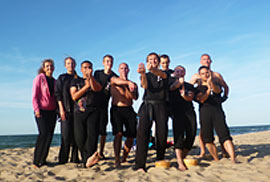 IWCO summer camp "Baltica 2013" was held from 19 to 28 August 2013 in Kaliningrad (Russia)
We are very grateful to the IWCO Instructor Bondarev Michael for organizing this event.
IWCO - Lithuania seminar
Seminar for IWCO - Lithuania was held in September 04-05, 2013
The seminar was conducted by Sifu Anatoly Beloshchin.
For seminar and Wing Chun Master Classes: E. Mail: info@iwco.info
IWCO students meeting in Stockholm (Sweden).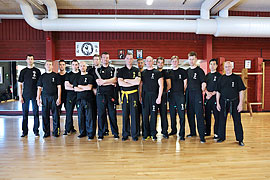 IWCO-Sweden and IWCO-Russia students meeting was held August 24-25, 2013 in Stockholm (Sweden).
The meeting included: Chi Sao between students, IWCO master class and excursions.
IWCO thanks to Instructor IWCO-St.Petersburg Osman Dinaev and Instructor IWCO-Sweden Robert Kenneryd for their help in organizing this meeting.
IWCO - Israel: free fights and combinations
Subscribe to WING CHUN TV:
http://www.youtube.com/IWCOinfo
​IWCO summer camp "Baltica 2013"
IWCO summer camp "Baltica 2013" started August 19, 2013 In Kaliningrad (Russia).
Summer camp will be held from 19 to 28 August 2013.
Wing Chun: Truth and Lies
Subscribe to WING CHUN TV:
http://www.youtube.com/IWCOinfo
The new schedule in IWCO-Sweden
Stockholm, Sweden
Intermediate and beginners: Wednesdays 19.00-21.00 and Sundays 17.00 to 19.00.
Husarvägen 29, Vilundaparkens Kampsportscenter, Upplands Väsby, Sweden
Instructor: Robert Kenneryd, E-mail:
info@iwco.se
Homepage:
http://www.iwco.se